Greetings colleagues,
For those who missed our inaugural ASPA FLEX Webinar, kindly watch the recorded video in Youtube.
Thank you.
ASPA FLEX WEBINAR: An initiative by ASPA E EDUCATION.
The Asian Society of Paediatric Anaesthesiologists undertook the initiative of E-Education.  Face to face meetings and conferences are not possible during this Covid epidemic and ASPA realises that continued learning and teaching paediatric anaesthesia an integral part to improve patient safety. This series will be conducted on the 3rd Sunday of every month Notice of the webinars were communicated via emails and other social media platforms. This webinar was open to anaesthesiologists, paediatricians, intensivists, nurses, operating theatre technicians looking after children. In nutshell, it was open and freely available for all healthcare professional involved in care of children.
ASPA FLEX is funded by ASPA and WSFA
The FIRST webinar of the ASPA FLEX series was conducted on 19 July 2020.
The details of the topics and time slots across different time zones of Asian countries were as given in the flyer (figure 1).
Figure1. ASPA FLEX FLYER     ​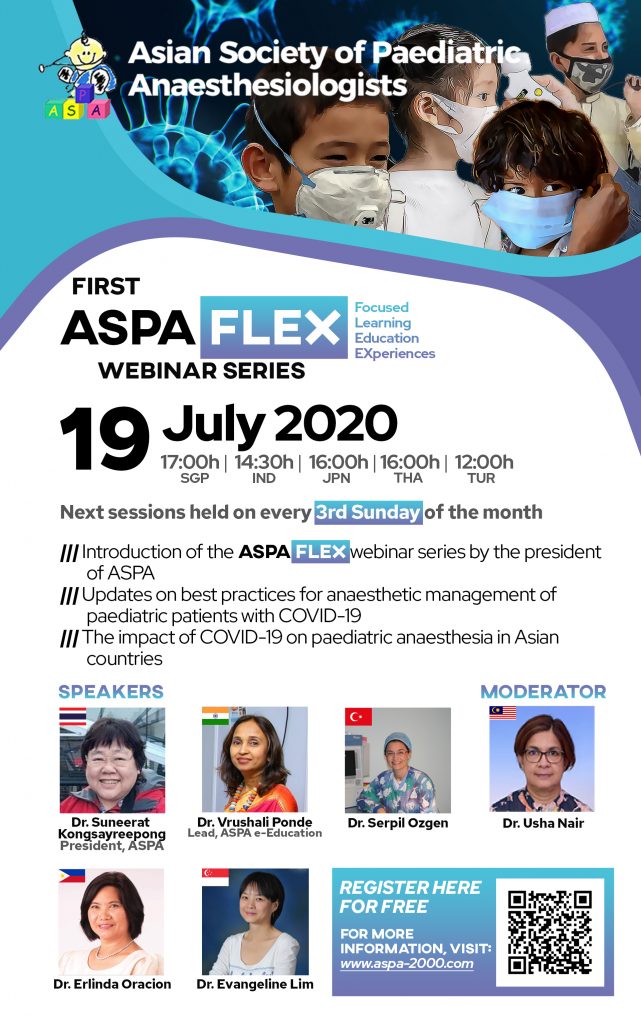 The speakers and moderators along with the webmaster of ASPA had rehearsed the sequence. The speakers shared their slides and opinions freely to avoid repetition. The entire team took genuine efforts in making the content as pertinent and pragmatic as possible.
We had in total 987 registration and 508 delegates attended this webinar online. The clinical and professional distribution of delegates is shown in Figure 2.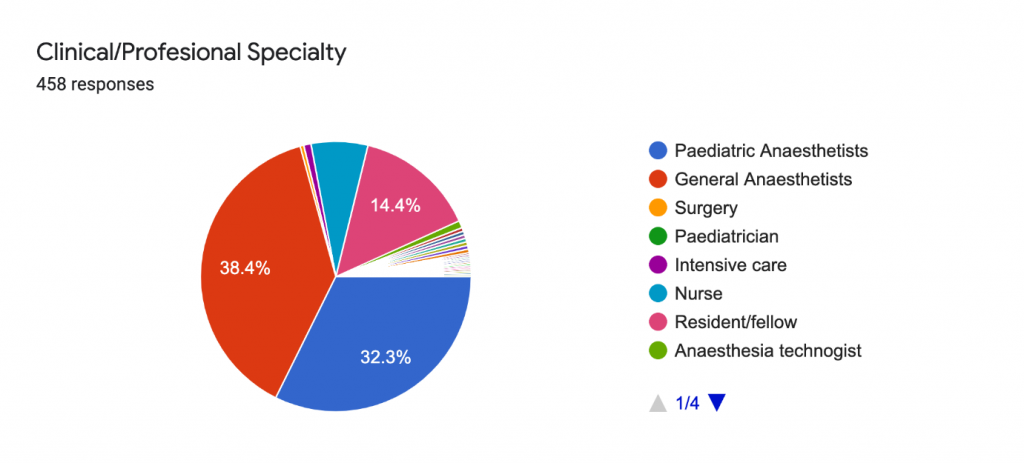 Dr Usha Nair moderated the entire webinar single-handedly.  The audience was instructed to type their questions on the Q and A  column. They were also encouraged give their feedback in the survey form, following which a certificate of attendance can be download. The feedback ensures subsequent ASPA FLEX series can be improved
Prof Suneerat Kongsayreepong, the ASPA president, in her welcome address, shared the mission of APSA in general and introduced the ASPA FLEX webinar series in a short and crisp fashion.
Dr Erlinda Oracion in her talk on COVID -19 in children: Vulnerability 2.0. vividly describes the  unique features of what is happening to care of children in hospitals and society in general.
Dr Evangeline Lim spoke clearly and concisely  on airway management of paediatric patients in the COVID-19 era.
Dr Vrushali Ponde spoke on how has the everyday practice changed: Premedication, Induction and Regional anaesthesia.  She elaborated on practical points and gave tips to handle day to day work in the current times.​
Dr Serpil Ozgen gave a comprehensive talk: What we try to do in the "new normal": Intraoperative management.
The series was concluded by Prof  Suneerat Kongsayreepong lecture on Anaesthetic consideration of a critically ill paediatric COVID -19 patients. This talk was brief as it was a prelude to the next ASPA webinar: Update on CPR in paediatric patients and neonatal resuscitation. Advances of  ventilatory strategies intraoperatively and in the intensive care.
Every speaker abided by the time allotted to them and did full justice to the topic. This is reflected in the feedback obtained. The graphical representation of the feedback is illustrated n Figure 3.
Dr Usha Nair did the admirable job of ensuring many questions raised by the audience was addressed by the speakers.
Dr Nair  concluded the webinar by thanking all the speakers and the audience for their interest and time. She also thanked the ASPA webmaster Mr Teddy Fabila.
All in all, ASPA embarked on a New Era of E education in ensuring free exchange of information with sole purpose of improving perioperative safety of children.
We would like to acknowledge Dr Masao Yamashita for relentless search for new Covid articles to be added to ASPA website folder; COVID-19 Updates
Fig 3:  The feedback of the survey is represented in the following figures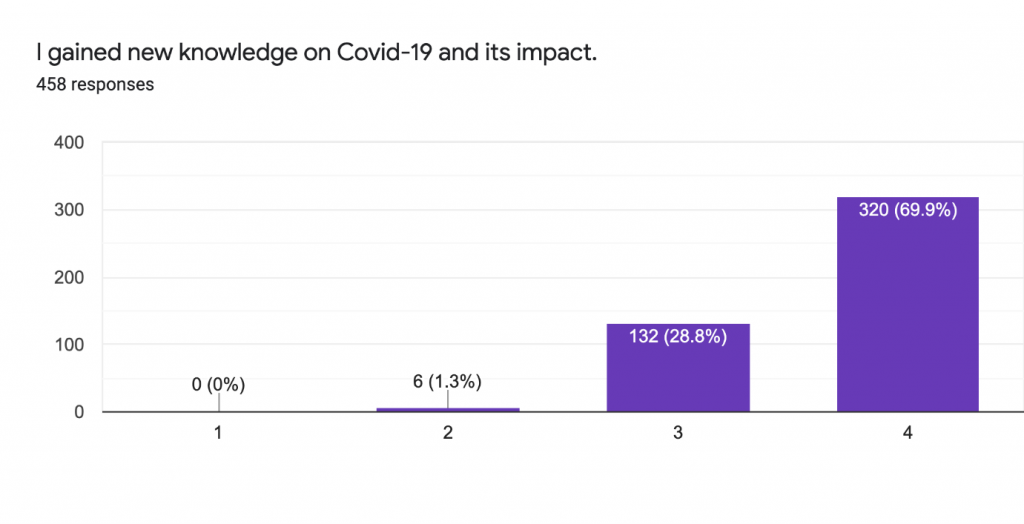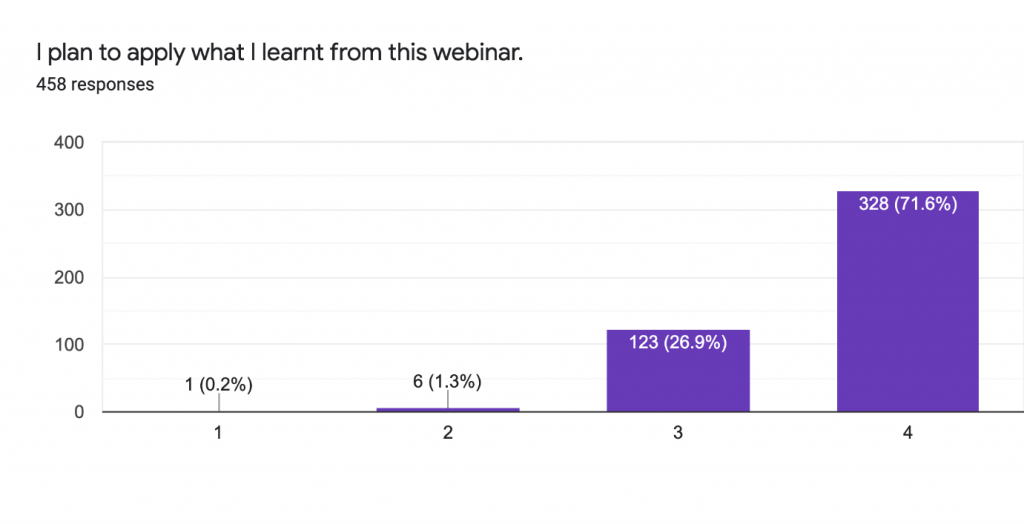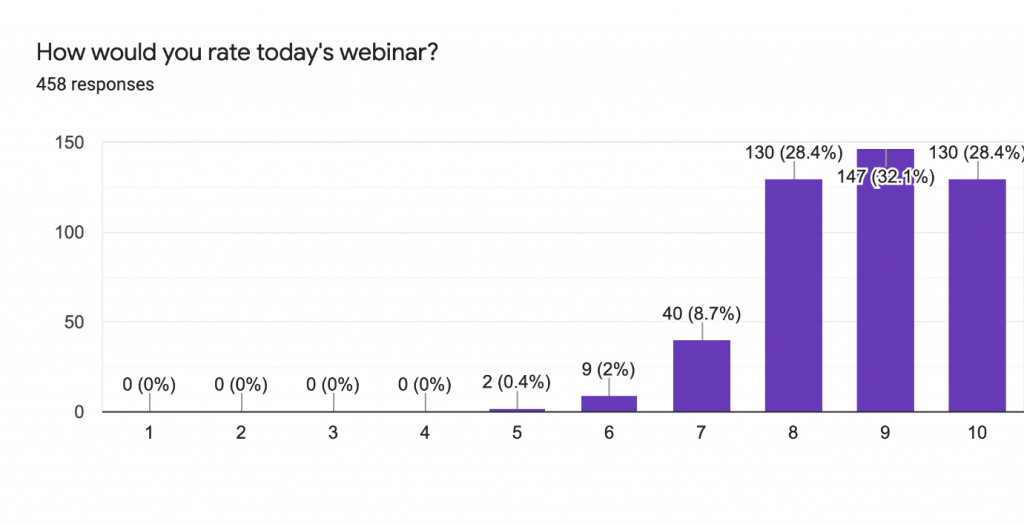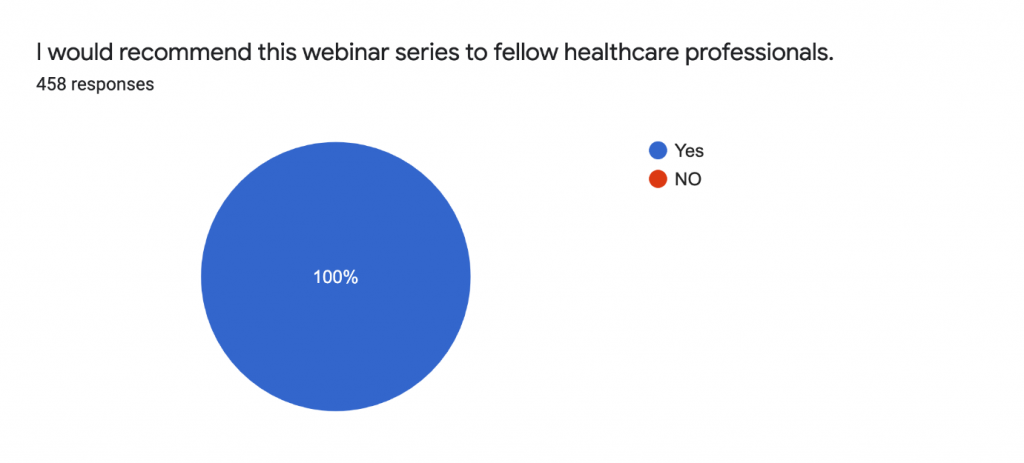 As per the survey , other topics that would interest the delegates were as follows:
Latest practices and innovation
Paediatric postoperative analgesia
Management of transporting covid -19 patient
Surgeon perspective in Covid patient
Ethical dilemmas in paediatric anaesthesia
Sedation management of critically ill paediatric patients
Advances in paeds anaesthesia
Difficult airway emergency case, obese patients for general anaesthesia either emergency or elective case
Mechanical ventilation for paediatric covid patients
ICU and Critical care recommendations in neonatal and Paediatric patients in COVID
Intraoperative management, ventilation strategies
Pals
Paediatric ICU
paediatric ambulatory surgery, specifically during COVID-19 pandemic
NORA in time of pandemic
Fluid therapy, resuscitation, difficult airway
Anaesthetic management on neonatal emergencies
RSI in critically ill children esp-0.infant
Anaesthesia out of operating room
Practice on anaesthesia on Out of Operating room procedures
Paediatrics physiology, common procedural consideration in anaesthesia
In conclusion, we enjoyed being a part of this initiative and we wish the best for the many more webinars to come.
Dr Vrushali Ponde
On behalf of ASPA.
ASPA E -Education Chair