14th Conference of Asian Society of Paediatric Anaesthesiologists
2-4th  June 2017, Mumbai, India
---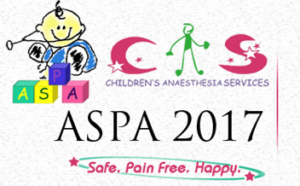 The 14th Asian Society of Paediatric Anaesthesiologists was organized by Children's Anaesthesia Services, CAS, (Mumbai) in collaboration with local bodies at Grand Hyatt and Surya Childcare (Mumbai). Over 600 delegates from all over Asia, Australia, New Zealand, Europe, USA attended the meeting.
The meeting was organized by Dr Vrushali Ponde, aided by her team at CAS; Dr Dilip Chavan, Dr Ankit Desai, and Dr Shailesh Mulgaonkar et al. Entire team put in gigantic efforts to make this meeting happen and make it an academic feast.
Dr Masao Yamashita deserve a special mention for his support.
The 1st day of the meeting were the pre-conference workshops, which were held at Surya Childcare and were attended by over 130 delegates. The 1st workshop was Paediatric Anaesthesia Perioperative Life Support presided by Dr Agnes Ng and her team. The aim of this course was to assist anesthesiologist to manage children undergoing surgery in anticipating, preventing and treating causes of perioperative cardiac arrest. Interactive case discussions include topics; a "A tight bag", "LAST after caudal blocks", "Desaturation of child under sedation in an MRI suite ". "Breaking bad news to the parents" involved role-play by participants. This was especially appreciated by the participants.
The 2nd workshop was Paediatric Tracheal Intubation with Optical Instruments was presided by Dr Josef Holzki and his team. This workshop had stations in which the faculty demonstrated newer airway gadgets on paediatric manikins. The delegates also had hands on experience with FOB, Video laryngoscopes, FONA (on goat trachea) and lung isolation techniques.
The conference started on the 3rd June at Grand Hyatt with a welcome address by Dr Vrushali Ponde. This was followed by 4 didactic lectures on basics of regional anaesthesia. Prof Adrian Bosenberg laid the firm foundation for the day by this talk. Regional anaesthesia in Paediatrics: Fact or Fancy?  Evidence based.
Following the lectures was the much anticipated event of the conference, "Live relay of Paediatric Regional Blocks" in accordance with the theme of the event "Safe, Pain free, Happy". This included live relay of blocks on consented patients from Surya Child Care Hospital to the main auditorium at Grand Hyatt. Team CAS managed the clinical part in conjunction with our paediatric surgeons.
All modalities of blocks were showcased which included landmark caudal, PNS/ USG guided caudal, upper extremity blocks with PNS and USG, lower extremity blocks with PNS and USG, truncal blocks like USG guided TAP, ilioinguinal and iliohypogastric, QL1,2,3,4 etc. Our guest faculty Dr Manoj Karmakar and Dr Vrushali Ponde, Dr Dilip Chavan, Dr Ankit Desai demonstrated the blocks. The delegates enjoyed the crisp audiovisuals and one to one interaction with the faculty performing the block in live patients. The moderators brought forth every aspect that the audience wished to ask and discuss during the live show. This was followed by "The Video demonstrations of novel blocks by the experts: The Easy Way", almost completing the list of regional anesthesia techniques. The  didactic lectures later conducted in  two halls covered a range of issues concerning the paediatric anaesthesiologist. Although all of them were very relevant few definitely deserve a mention.
"Blurring the lines between Hype, Hopes and Reality: Postoperative pain management from Operation Theater to the floors"
Dr Raafat Hannallah drove home the message of postoperative pain management. "Cool cases, Deep discussion and hot debates": Panel discussion struck a cord with every day work and application of regional anesthesia with its handleably issues.
Together we last: Regional anaesthesia, A Surgeons perspective delivered by Dr Ashok Johari cemented a lots of thoughts as a beneficiary of regional anesthetic techniques
The food menu was carefully selected keeping in mind the international participation and included traditional Indian dishes to continental and oriental dishes and also local Mumbai delicacies like vada pav, bhajji pav, etc. The conference also featured multiple panel discussions in which various topics like neonatal anaesthesia, private practitioners forum, regional anaesthesia, airway etc were covered. Residents and consultants featuring case reports of rare cases to original articles discussing various topics presented around 80 E posters.
The highlight of the conference was the musical evening "Sandhyanshu- A soulful Musical evening". The evening began with the inauguration which was done by Paediatric Surgeon and social activist Dr Sanjay Oak. Prof Agnes Ng briefed the audience about ASPA and its mission. This was followed by singing and dance performances by small children. Specially-abled children performed on Bollywood songs showcasing their special ability which touched all hearts. Little masters Vihaan Dattani and Saee Desai performed with flair and would always be remembered for their wits. The organizing secretary Dr Vrushali Ponde performed with her team on a sitar which was followed by cocktails and dinner.
The 2nd day of the conference included lectures in 2 halls encompassing a gamut of current scientific knowledge delivered by faculties who are experts in their respective specialties. "Don't Know what's, right? Have a re-look at preoperative evaluation" by Dr Anila Malde. "Dealing with premedication, Dealing with…. mom, dad and the baby!!" by Prof Dilip Pawar. "Cases in many faces! Induction techniques" by Dr Ankit Desai. "Practical tips and latest insights in Low flow Anaesthesia" by Dr Jerry Lerman. "Let's get "Airway smart": It's a risky task!" a panel discussion on difficult airway were just a few of the highlights of the second day. "TIVA: Are we looking at the future?" by Dr. S Ramesh, "Mix and Mingle: A case based discussion by a panel of interdisciplinary private practitioners
Selected original research papers were showcased on podium and judged by eminent faculties. It was made sure that the presenters got experts opinion but we stayed away from competitions.
"Neonates: Tight corners, Tough cases". Panel neonatal anesthesia headed by Prof Cote was informative
The conference ended with a dramatized Courtroom Scene enacted by doctors. The script was written Dr Vikas Nair and the Scene was moderated by Dr C K Ponde. This was our way of   addressing  various pressing medicolegal issues in today's practice.
The meeting also featured ten interactive luncheon, breakfast and evening sessions in which a small group interacted one on one with faculties.  The ambience of the venue was very serene and the delegates were very cordial and a lot of scientific ideas were exchanged. The venue also had recreational areas like painting wall displays by Dr Vichare (an anaesthesiologist), selfie corners, graffiti walls etc. Delegates and faculty very liberally used the graffiti wall for their generous feedbacks.
The sponsors displayed their products in trade area and offered discounts on their products for the attending delegates. There were stalls displaying Indian traditional outfits and jewelry which was enjoyed by the international colleagues.
This meeting shall be remembered as an epoch making meeting in India in terms of crisp audiovisuals, flawless relay of live patients, innovative dramatization of real life cases, untiring efforts of organisers and warm hospitality in accordance with the Indian culture and tradition. This meeting will go a long way in improving the paediatric anaesthesia practice in this region.
To view the lectures online visit www.casmumbai.com
ASPA 2018 will be held at Bangkok. August 17-19, 2018
Dr Vrushali Ponde